Heading off to Las Vegas is not always fun, games, and fooling around—sometimes, it also means serious business. Not everyone knows, but the city is also a great destination for conferences, expositions, exhibitions and many other business-related activities and gatherings. In fact, Las Vegas has held the distinction of being the top convention destination in North America for the past 23 years.
As such, tourists who come in and out of Las Vegas are not only ordinary visitors like families, couples, and friends out to have a good time, they also include busy executives, businessmen, and entrepreneurs who get into meetings and discussions about their line of work.
There are many hotels, convention centers, and venues such as bars and restaurants in Las Vegas that make for the perfect venue for your next corporate event. Crazy Horse 3 is one such establishment—it is more popularly known as an exclusive gentlemen's club, but it is definitely more than just that.
Our venue makes your corporate event a genuine success with the full support of event planning ideas, services, and convenient add-ons, thus taking away the headache of event organizing and implementation. All you and your guests have to do is show up, and everything is taken care of.
Why Hold Your Corporate Event at Crazy Horse 3?
Refined Interiors
The interiors of our club are one of the classiest and most sophisticated you can find in Las Vegas. It has just the right touch of bling and luxury, with rich deep gold and brown tones and an inviting, warm atmosphere. Our furniture and interior design are modern yet classic and timeless.
Expansive Floor Space
It may not look like it, but our club can actually host a corporate event for up to 1,500 people! It is also flexible to be set up for smaller gatherings. Our events venue is separate and contained, with private and exclusive entrances, as well as its own restrooms. Luxury transportation services care of our limousine staff can also be arranged, and complimentary parking is available.
Complete Event Amenities
Our space is also designed to fully support any production or event design needed in terms of audio-visual equipment (microphones, television sets, projector screens, an so on), which makes it perfect for other types of events like awarding ceremonies, sales events, or even socials like mixers.
An Array of Food Choices
Crazy Horse 3 also provides full catering options. Our topnotch food choices will surely meet any taste or budget that you may have. You can also bring in a fully stocked bar so that you and your guests can unwind after your business meeting. We offer flexible bar and open bar options.
Complete Wait Crew and Event Planning Staff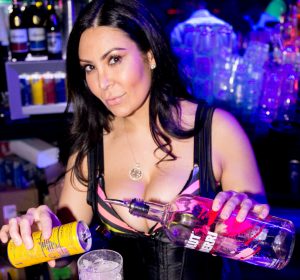 Crazy Horse 3 has a dedicated wait staff to service your party needs. But what sets us apart is that we also have professional event planners who can assist you on your event needs from start to finish. This is helpful because some people are not well-versed in planning parties, and they may not even know where to begin. The variety of options might overwhelm them.
Our event planners are well-experienced professionals who can guide you every step of the way, from coming up with the concept or idea for your event, to choosing the right details—from food and drinks, seating arrangement, and audiovisual needs, down to decorations and flowers—and finally, being there during your event to make sure that everything flows smoothly. Our event planners will take care of you.
Party Packages for After-Convention Parties
All work and no play make Jack a dull boy, indeed. After some serious meetings in your corporate event, why don't you and your guests kick back and relax with some drinks and entertainment? At Crazy Horse 3, the end of the meeting signals the start of the fun. You can head here for an after-convention party wherever in Las Vegas you may be.
The Professional VIP Vegas Package
You can easily choose from our many packaged party deals that provide you awesome value for money when you book online. The Professional VIP Vegas package is one of the most popular, especially among executives or businessmen who truly want to feel like a boss and in charge of a night of fun. Book online for $50 per person from an original value of $140 per person, and you can generously pick up the tab for your entourage, no matter how small or how big.
The Professional VIP Vegas deal includes luxury transportation via limo to our exclusive club, with VIP front of line entry and no admission charge. You and your guests get to hang out in our main room and choose whatever drink you want with a $60 beverage voucher. Now isn't that how a great night is started?
A Party Package for any Group Size
There are many other Crazy Horse 3 deals that you can choose from, beginning with the Getting Crazy package that's good for a party of five. You get the same luxury limo treatment and VIP front of line entry, with premium main room seating and no admission charge.. You and your guests automatically enjoy a bottle of your favorite branded alcohol (Skyy Vodka, Seagram's 7 Whiskey, Maestro Dobel Tequila, Johnnie Walker Red, Bacardi Rum, Hendrick's Gin, Freixenet champagne), plus unlimited soda and juice carafes—usually valued at $495. This package can be booked online for only $329.
For larger groups, check out the Too Crazy deal for up to 10 persons or The Three Horses package for more than 10. These party packages come with more bottles of your favorite drinks and are priced at $649 and $899, respectively—really great deals and good value for your money for a night of free-flowing fun and entertainment after a hard day at work.
A Variety of Delicious Treats
For grub to go with your drinks, you can choose from our selection of specialties we'd like to call our "oral treats." They're just the perfect party food—pick them up and pop them in your mouth. We have a variety of freshly prepared sushi options like rolls (California, spicy tuna, spicy scallop, shrimp tempura, Philadelphia, spider, and eel), nigiri (tuna, yellowtail, salmon, shrimp, srab, and eel), and our very own creations like the Rainbow Roll, Snow Roll, Dancing Eel, Caterpillar Roll, Tiger Roll, Ultimate Tuna, Japanese Lasagna, Crazy Horse, Screaming O, 3 Amigo, Ichiban, Scallop Dynamite, Sunset, Swamp Thing, and Chef Special.
We also have good old bar chow and finger food favorites like fries, onion rings, chicken fingers, calamari, jalapeno poppers, mozzarella sticks, breaded mushrooms, egg rolls, sandwiches, burgers, different flavors of pizza (cheese, pepperoni, Hawaiian, barbecue chicken, supreme and veggie), and hot wings.
Our "oral treats" also include other stuff that you can put into your mouth to keep it busy. You can choose from our selection of premium cigars from all over the world, or different flavors of hookah (shisha) that you can share with the group.
Why Las Vegas Is the Perfect City for Your Corporate Event and After-Event Party
Crazy Horse 3 is located in a great place in Las Vegas, just a few minutes away from the popular and well-known Las Vegas Strip. The city has grown in prominence as a destination for business conferences, conventions, and meetings because everything is conveniently located right within reach.
You can easily switch from business mode to party mode, which is great because no other people like businessmen and executives know the value of a fun night out in getting rid of stress from a day's work. These top honchos also know how to spend, and they know that a night out in Las Vegas is just the perfect way to reward themselves and their business associates with good drinks, great food, and a great time with live dance and entertainment.
After all that partying, you can easily retire to your own room in any of the numerous hotels and luxury accommodations in the city. Even during the day, there are lots of things to do and places to see in Las Vegas, like famous landmarks and the classic desert scenery often depicted in many popular movies and television shows.
There's the famous "Welcome to Fabulous Las Vegas" sign, as well as the dancing and lighted fountains of big hotels and casinos along the Strip. There are interesting replicas of world landmarks like the Eiffel Tower, the Grand Canal in Venice, and an Egyptian pyramid.
Las Vegas by the Numbers
Consider these interesting facts and information from the Las Vegas Convention and Visitors Authority about why Las Vegas makes for a great place to hold business events, meetings, and conferences:
There are around 150,000 room accommodations in Las Vegas—enough for any size gathering and a perfect value for group tours and packages.
There are more than 262,000 resort employees to efficiently service meetings, conventions, and exhibitions for groups of anywhere from 10 to 150,000.
Las Vegas has more than 11 million square feet of exhibit and convention space. It is actually home to three of the country's 10 largest convention venues. These are the Las Vegas Convention Center, which boasts 2.2 million square feet of space; the Sands Expo and Convention Center, with a 1.7 million-square-foot space that includes a 500,000 square feet meeting space at The Venetian and Palazzo; and the Mandalay Bay Convention Center, with a 2 million-square-foot center on the south of the Las Vegas Strip.
There are almost 1,000 flights in and out of Las Vegas every day, and nonstop service from more than 125 cities both in the United States and internationally. There is sure to be a flight to meet any and all schedule and budget. Plus, the city's McCarran International Airport is just two miles from Las Vegas Boulevard and 3.5 miles from the Las Vegas Convention Center. Most of the 150,000 hotel rooms are also within just a 15-minute drive from the airport.
Other modes of transportation available are bus, taxi, and app services like Uber and Lyft. Most hotels also offer convenient shuttle services for the convenience of their guests. The United States' first automated monorail system can also be found in Las Vegas.
The generally good weather in Las Vegas also adds to its year-round appeal for tourists and business travelers. The dry, warm climate rarely experiences rainfall, and it is sunshiney on an average of 320 days in the whole year. Visitors can dress up casually and comfortably with this weather.
Other Things to Do in Las Vegas
After your business meetings and your Crazy Horse 3 party, you can roam around the city to check out many of the other things it offers. There are lots of retail outlets where you can do shopping, and most of the world's best luxury brands can be found in Las Vegas—not surprisingly, since high rollers spend a lot of cash shopping for everything from jewelry and watches to designer shoes, dresses, suits and even cars. There is also a wide array of restaurants to try, from high-end and fine dining establishments to unique hole-in-the-wall food outlets.
Not many people know this as well, but Las Vegas has a rich cultural and arts scene. Downtown, you can find many museums and theaters that showcase dance, music, and theater performances. There is even a Neon Museum, quite a popular attraction that houses the iconic neon signages and billboards that Las Vegas had been known for especially during the 1950s.
If you want a different experience of Las Vegas aside from business and party, be sure to check out all these other attractions and destinations. You can easily do some research online and plan your trip well in advance to make the most of your stay in Las Vegas.
Corporate Event Planning Made Easy
If you have been tasked to organize your company's business meeting or conference, don't fret—coming up with your next corporate event is no different from planning any other party or gathering. Just keep in mind some simple, easy steps to follow in order to determine what you need for your event, and how to bring them all together.
In Las Vegas, there are also many establishments like Crazy Horse 3 that make corporate event planning less stressful, with pre-arranged packages that you can simply choose from. There is sure to be a package that will fit your need or budget. Our convenient online booking also makes it easy and hassle-free to arrange your next corporate gathering, plus we have many awesome online deals to save you a lot of money. 
Don't forget to hire CH3 Girls for your corporate booth or event. Our atmosphere models will set your brand above the competition.