If you're planning a trip to Las Vegas with your buddies, you're probably already looking for ways to get the most of your visit. If you're an avid sports fans, then you're in luck; you can immediately add a fantasy NFL draft party to your list of things to do. In fact, you can even say that Sin City is one of the best places for this activity.
If you're new to fantasy football, then you've probably only heard about it from sports or gaming fans. In a nutshell, it's basically people putting together a dream team of players and seeing how well that team will fare using those player's actual real-life stats during the season. The real fun begins when people start comparing their teams and begin seeing which ones have better overall stats. The fantasy teams that garner the most touchdowns, yards, and other stats win the prize at the end of the season.
Why Fantasy Football?
Whether you're new to football or an old-time fan, fantasy football will allow you and your buddies deepen your knowledge and love for the sport since you get to keep track of stats throughout the season. You'll know which players are out of action and which ones are on a roll. You also get to feel like a little team manager and experience what it's like to come up with strategies to keep your team on top. If nothing else, it gives you something to root for throughout the season even if your favorite team gets knocked out early.
The fantasy NFL draft party is where it begins. This is the big day when you and your buddies will forge the perfect lineups to find out who did it best at the end of the season. You want this to be fun and special, so what better way to start than by holding a party at Crazy Horse 3 in Las Vegas?
Why Crazy Horse 3 Is the Place for Your NFL Draft Party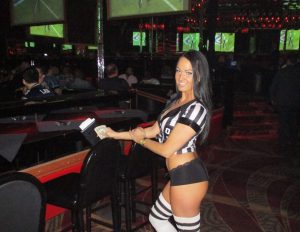 An NFL draft party at home with just a few bags of chips and cans of beer might seem like a good idea, but that is what a typical guy's weekend nights are already like anyway. Whether it's your first draft party or you've been at it for several playoffs already, you'll want your next draft party to feel special.
Crazy Horse 3 offers all you'll ever need to host that perfect fantasy NFL draft party. Here are just some of the ways having your fantasy football party here can make a huge difference.
The Limo Service
You don't want people from your group to arrive late just because they got lost in Las Vegas or because they had to take the cab! That could ruin the anticipation for the party. With Crazy Horse 3's premium limousine service, there's no need to worry about late rendezvous. Your group can even go your separate ways during the day, meet up at the hotel later in the evening, and then enjoy a classy ride together straight to your NFL draft party.
The Mood
When playing fantasy football, you want to feel like a team boss. What better way to set the mood than by holding the party in a gentleman's club in Las Vegas? You get to dress the part, have the finest babes around, smoke high-quality cigar and hookah, and feel like a VIP throughout the evening.
The Booze
What's a guy's night out without the booze? We're not just talking about the stuff you buy at the convenience store.
It's NFL draft night, so you want something more classy for you and your buddies, like a fine bottle of champagne or liquor.
The Food
A perfect draft party isn't complete without the perfect pizza! Filling, delicious, and best of all, easy to eat while you're thinking about your lineups, the pizza has become a popular grub of choice for drafters across the country. At Crazy Horse 3, we have all of your pizza favorites, and if your group wants something else, we also have numerous other menu options to satisfy every hungry drafter, whether they're craving for sushi, calamari, egg rolls, pot stickers, or spicy chicken wings.
The Tech
One of the worst things that can happen in a draft pick is to have a slow or inconsistent internet connection. If you can't access online player databases, you can't make proper picks, and doing it the old-fashioned way with just paper, pens, a whiteboard, and a marker could take too much time. Fortunately, Crazy Horse 3 provides high-speed Wi-Fi so you get to spend more time making picks than waiting for your apps to load.
VIP Treatment for Great Value Prices
With all the good stuff needed for your NFL draft party already in one place, you're probably thinking of how much you're going to spend during draft day. Lucky for you, Crazy Horse 3 offers promos specially made for fantasy football revelers:
FANTASY FOOTBALL BOTTLE SPECIAL $199
Premium Transportation to CH3
VIP Front of Line Entry ($60 Value)
No Admission Charge ($40 Value Each)
Main Room Seating
1 Call Brand Bottle with unlimited soda and juice carafes ($495 Value)
Bottle selection includes Skyy Vodka, Seagram's 7 Whiskey, Maestro Dobel Tequila, Johnnie Walker Red, Bacardi Rum, Hendrick's Gin, Freixenet Champagne
HD TVs with Surround Sound
Free Wifi
Free Pizza
And Topless Board Girls!
You can host NFL Draft Parties for up to 200 people at Crazy Horse 3, just give us a call and our party hosts will get you all dialed in!
As you can see, whether you're bringing a small group of your closest buddies or the whole gang, Crazy Horse 3's Crazy Deals makes for reasonably-priced VIP-level draft parties that you will never forget. Outside of those deals, you'd be spending almost double that amount, so you're really getting a lot of value out of your party budget. All deals include limo service, waved admission charge, VIP front of line entry, and seats in the club's main room. It also includes unlimited soda and juice carafes, plus between 1-3 bottles of your favorite champagne or liquor, depending on the package you choose.
Tips for Making the Most of Your Las Vegas NFL Draft Party
Just having your draft party in Las Vegas already makes your party awesome, but here are a few helpful tips on how to make the most of the experience.
Be Picky with Your Invites
Many draft parties are rendered useless and their leagues ruined because some people suddenly call it quits halfway through the season. You want your draft party to matter all the way to the end, so you might want to check your guest lists and avoid those who are likely to drop out as soon as they see their teams suffer a losing streak. Make sure you're only including the guys that you know will play until the season ends so you know the draft party will be worth it.
Check Your Scoring Format
Different leagues tend to use different scoring formats, so you have to get everybody on the same page. There's a chance that people in your party are used to different formats, so you have to arrange a compromise. The safest option is to just go with the standard format, but keep an ear out for any suggestions that might suit your group better. Remember, the scoring format should be decided before the draft starts.
Plan Ahead of Time
The best way to find the right picks is to do some research on the top players ahead of the draft party. You can create printouts of the top player rankings and give them to your buddies during the draft party so that everyone starts out on equal footing in terms of access to information. Trust us, very few enjoy playing against hosts who try to get an edge over them even before someone makes the first pick.
Go Easy on the Drinks
We get it, it's a guy's night out and there's plenty of booze to drink, but this isn't just an ordinary bar trip. Instead of focusing on quantity, this is a great time to spring for the upgrade and get a quality single malt or rare victual you've been wanting to try. Remember that draft parties can take a long time, and that means you have to stay sober for most of the night. The last thing you want is making a bad pick because you're too tipsy to make an informed decision. Set your drinking pace accordingly, and you should have no problems.
You may also want to spring for some high-grade cigars to set the mood as well. Reset your focus and get back in the game with a hearty puff on a quality stogie.
Schedule Your Bathroom Breaks
With all the drinks and good food, people will have to go to the bathroom every now and then. This may not be a problem at first glance, but you'll eventually realize that you will get interrupted every time one has break the seal. It's much better to plan your breaks ahead. Let your buddies know that you will be taking breaks at the same time so you spend more time drafting than waiting for Bob to come back from a bio-break.
Have Fun
Remember that fantasy sports is supposed to be a fun activity with your buddies. Also, you're in Las Vegas getting the VIP treatment. Sure, sticking to the plan is important, but the plan is there so that you still get to have fun without ruining the draft. NFL draft parties only happen once a year, and it's the perfect time to have fun with your friends, so loosen up and do your best to make good memories.
Once the draft party is over, you can then explore the other things that Las Vegas has to offer. And in the future, you can still come back to the city for other fun celebrations with your buddies. Whether it's for a bachelor party, a sports viewing session, or just a night of partying in Sin City, you can always count on gentleman's clubs like Crazy Horse 3 to have your needs covered. More importantly, you now have an idea of where you should go every time you're hosting an NFL draft party.